THE HISTORIC JEFFERSON GHOST WALK
"THE ORIGINAL JEFFERSON GHOST TOUR"
Come join us on a night time journey and discover Jefferson's Historic Haunts.
By the glow of lantern light you will venture through dark alleyways and courtyards listening to vivid accounts of historic tragedy, murder and ghostly encounters. You might even experience one! The only tour in town that will try to take you inside of a haunted location!
13 Year...factual history genuine legends and ghost tales Narrated by local historian Jodi Breckenridge. Be sure to ask Jodi about the Bio channel and A&E flying her out to California to shoot a show called "My Ghost Story" and then coming to Jefferson to film with her another show called " Fact or Fiction" !!!!
TOURS YEAR ROUND
. PLEASE NOTE OUR NEW DEPARTURE LOCATION! Tours every
FRIDAY
and
SATURDAY
night at 8PM and last approx. 1.5 hours. Tours avaliable other days per request with enough people. Tour departs from THE Sandwich Shoppe (Old Kahn Saloon) on the corner of Austin and Vale. (We do NOT leave from the Jefferson Hotel or Vacant lot anymore). Please check the weather and dress accordingly
Ticket sales begin at 7:30 and are sold until tour time at 8PM. Advance tickets are available online and at the Sandwich Shop.
FOR INFORMATION CALL 903-665-6289
For current updates check us out on
facebook

MOST REQUESTED TOUR IN TOWN....JUST ASK!
Disclaimer:
The Historic Jefferson Ghost Walk IS NOT affiliated with any other ghost tours. This is not a haunted house but a WALKING tour. Expect large crowds during peak times like halloween. We work hard trying to get access into privately owned buildings, but there is never a gaurantee as it is up to the owner.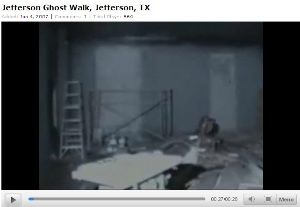 Click to see if you can spot the ghost !!!!
"The consensus is that Breck's is worth every penny"
-
The Record Live

(Click)
"rattled enough during these 90-minute tours to flee in fright"
- Houston Chronicle